As part of our published quarterly roadmap, one area of focus has been to release a solution to a very common request from our customers: imagine you're running a hybrid B2C and B2B store and you want to offer your different customer types bespoke shipping rates. For your B2C (retail) customers, perhaps you have shipping rules based on the order total. For your B2B customers, perhaps it is always a fixed cost.
On the surface, this seemed a simple request. Effectively, the merchant needed a way to easily differentiate shipping rates between customer types on the same Shopify store (i.e. B2B shipping versus B2C shipping). However, limitations within Shopify meant that there was no easy way to segment between customers, meaning merchants had to rely on third-party apps or workarounds to help solve this.
We're therefore pleased to announce our latest addition to SparkLayer, B2B shipping rules!
How the SparkLayer B2B Shipping tool works
The new SparkLayer shipping tool works by giving merchants an easy way to set shipping costs for their B2B customers, giving them the flexibility to set shipping rules at a global level (e.g. for all B2B customers, shipping is charged at a flat rate of $25), or for specific customer groups or countries (e.g. for Proforma customers, shipping is free)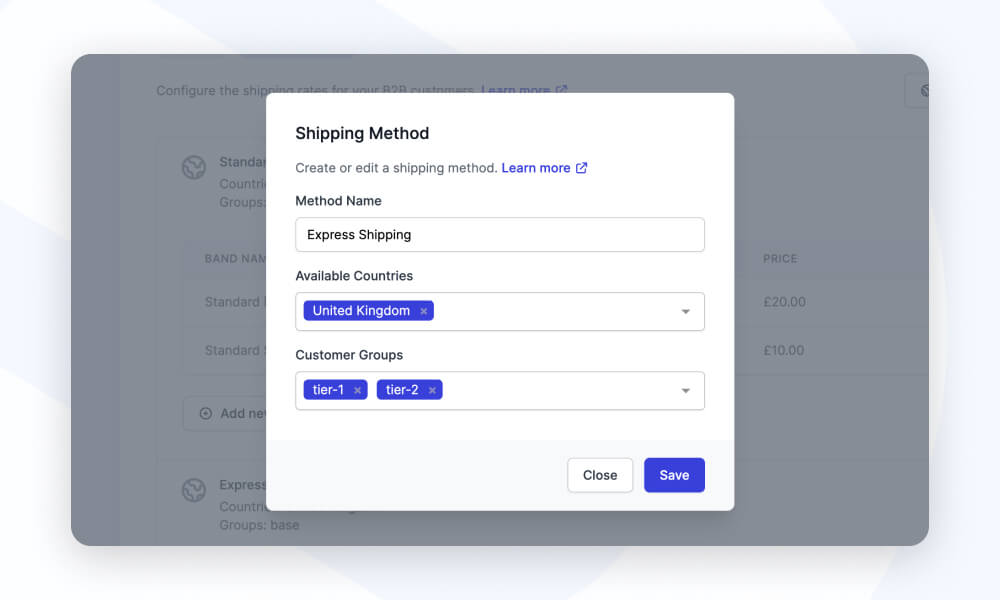 When setting up shipping rules, merchants can even extend this to set up individual shipping methods. For example, you may want to offer your B2B customers the option of 'Standard Shipping' or 'Express Shipping', each with their own rules. For example, 'Standard Shipping' may be free over a certain order total threshold and 'Express Shipping' is always a fixed cost (e.g. $20.00)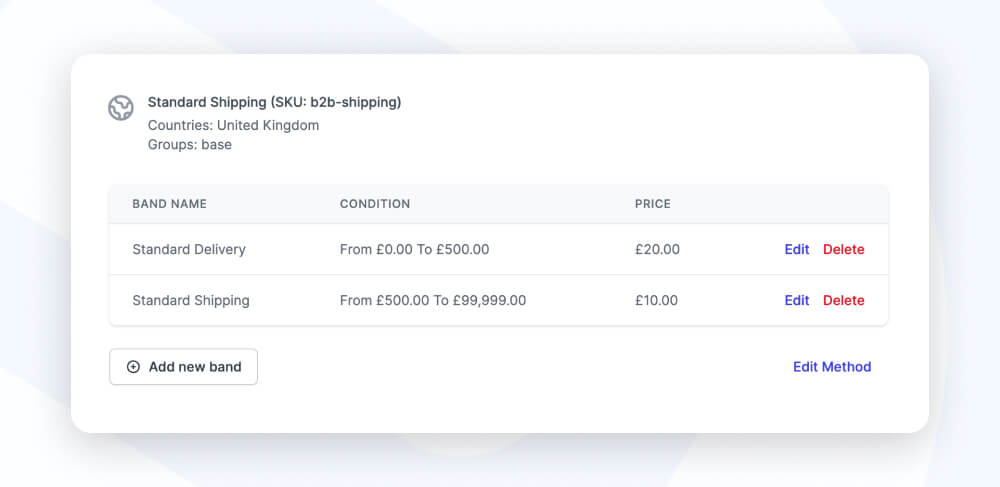 If you're running SparkLayer on a hybrid B2C and B2B Shopify store, your B2C customers will simply be shown your existing shipping rules as set up via the Shopify admin meaning you can manage both independently.
Empowering merchants with more flexibility
The launch of our new shipping tool aligns with our goal of creating a powerful, all-in-one B2B solution for merchants and ultimately helps them save time. By being a core feature of SparkLayer, merchants can now more easily centrally manage their B2B shipping rules and apply customised rules based on their requirements.
Catering for more advanced shipping needs
Whilst our new shipping feature will cater for the needs of many merchants, there are inevitably more complex requirements that merchants may require. One of our favourite solutions, Intuitive Shipping, is a strong alternative for merchants looking to add advanced rules such as volumetric and dimensional based rules, time-based requirements, configuring shipping providers, and much more.
Explore more
If you'd like to learn more about how the SparkLayer B2B shipping tool works, please visit our help guide where you'll find more details on how it can be configured to suit your B2B needs.
To learn more about how SparkLayer works with Shopify and Shopify Plus, please feel free to arrange a demo and we'll run you through the SparkLayer features and how it can integrate with all your systems.
Rhys possesses extensive experience in eCommerce and SaaS-based products, including leading fast and agile teams implementing high-level software architecture. He holds a BSc Hons in Computer Science from the University of West of England. Outside of work, Rhys enjoys outdoor activities such as climbing, urban exploration, hiking, and traveling, in addition to taking care of his feline companion at home!