A current hot topic within the eCommerce space is how merchants can now more easily scale and reach new customers by opening up to new international markets. Central to this is how merchants manage and process different currencies and different markets, with the end result ensuring it's easy for customers to transact in their preferred currency.
As a platform, Shopify lends itself very well to this, and the recent launch of Shopify Markets and Shopify Markets Pro make this increasingly accessible for merchants. But is this as straightforward for merchants who have a B2B operation that needs support for multiple currencies? In this guide we're going to present three ways B2B merchants can approach multi-currency by using the combination of the power of Shopify and SparkLayer.
Setting the scene
In the context of enabling B2B multi currency alongside Shopify, the key starting point involves establishing how you intend to configure your store. We typically see 3 ways to approach this
A single hybrid Shopify store: hybrid DTC and B2B with multi currency enabled
A single standalone B2B Shopify store that has multi currency enabled
It's really important to decide which is the best route and there are a number of factors that influence each: from how you want to manage stock, products, and CMS content, through to whether you need your B2B store to be locked down to specific customers. It's a topic we've covered here, and the content of this guide will also give some further foundation to help you make your decision.
For simplicity, we'll run through each of the approaches and specifically detail how they can be achieved alongside using Shopify and SparkLayer.
A single hybrid Shopify store
One of the benefits of Shopify is being able to run a hybrid (or blended) DTC and B2B operation. If you've already enabled Shopify Markets on your DTC operation and you're successfully offering multi currency, it's also possible to apply this to your B2B customers. SparkLayer's pricing engine has native support for multi currency's meaning you can easily enable different currencies within the same store. When a B2B customer logs in, their prices will automatically default to the currency you've set and their specific pricing.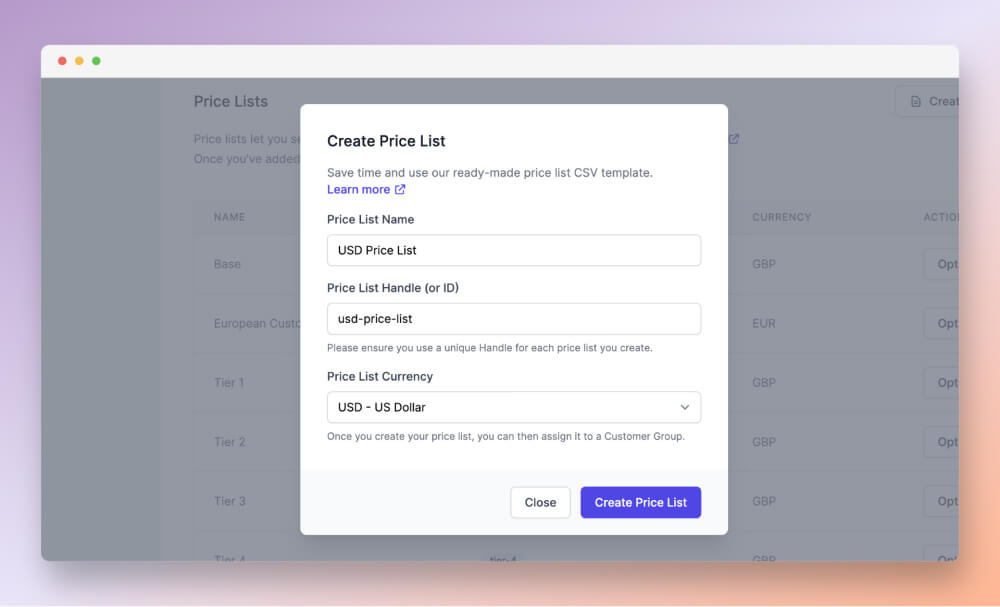 The user experience is largely seamless, however there is one caveat to be aware of behind the scenes. When a customer places a B2B order via SparkLayer, the order makes use of a feature of Shopify called Draft orders. At the time of writing, when an order arrives in Shopify, the currency will automatically be 'reset' to the Default currency configured in Shopify. For example, if your default currency is USD and you've enabled a EUR (Euro) price list, the order will be placed with the correct EUR pricing but reset to USD when viewing within Shopify. You can learn more about how this works in our guide here.
Whilst this sounds problematic at first , the good news is there are some elegant solutions to resolve this. Using the Shopify markets tool, it's actually possible to adjust the currency right from within Shopify in a few simple clicks. For any order placed as a draft order, it can be reconverted to any other currency you have enabled. In our example above, we can simply change the currency from the store default into Euro, and now all prices show as required. In our guide here, we've detailed the exact process to follow.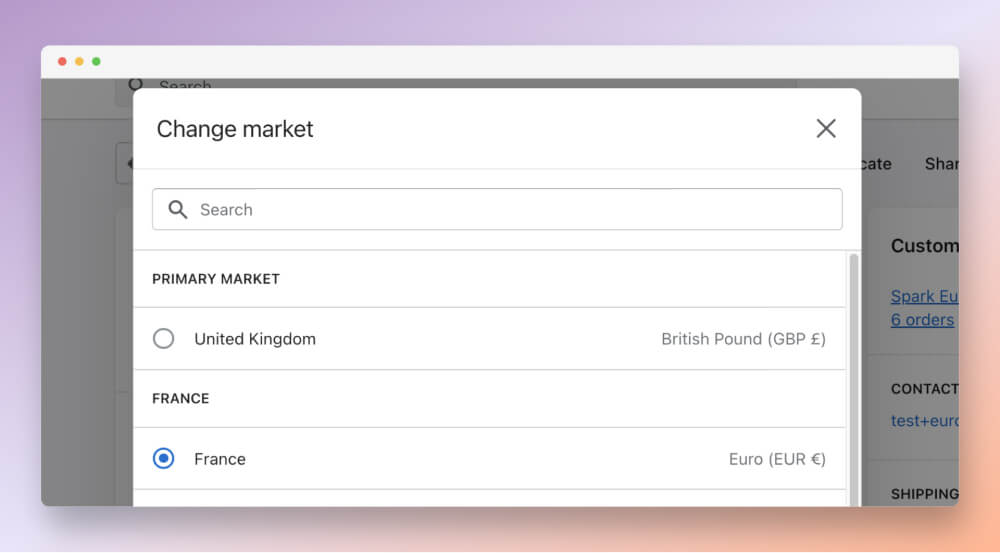 If you're using a back office solution that automatically imports your orders, an alternative solution is to do what we term a 'currency transform'. Although the order is submitted into Shopify with the incorrect currency, when it's routed through to the back office system, this currency is simply switched and imported as the corrected currency.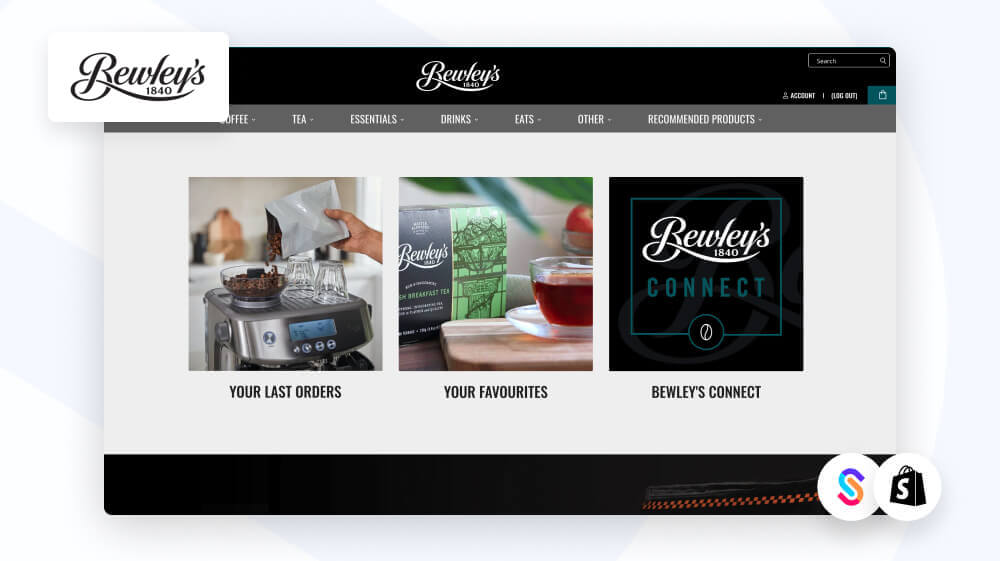 Bewleys have successfully enabled multiple currencies on a single store.
A single standalone B2B Shopify store
Enabling multi currency on a standalone B2B store is generally our recommended route for merchants to adopt. It allows for a cleaner delineation between their DTC and B2B operations and makes the multi currency setup simpler to manage.
The approach is actually relatively similar to that noted above. Since SparkLayer already has native support for multi currency, it then becomes a case of configuring Shopify markets on the B2B store to complete the process.
Once SparkLayer has been configured to allow multi currency ordering, any orders placed that aren't in the default store currency will arrive into Shopify still set as the default. So if the store's default currency is USD and a customer with EUR prices places an order, the order will arrive into Shopify with their correct prices but set to USD. At the time of writing, this is down to a limitation within Shopify not supporting multi-current draft orders so a workaround is required.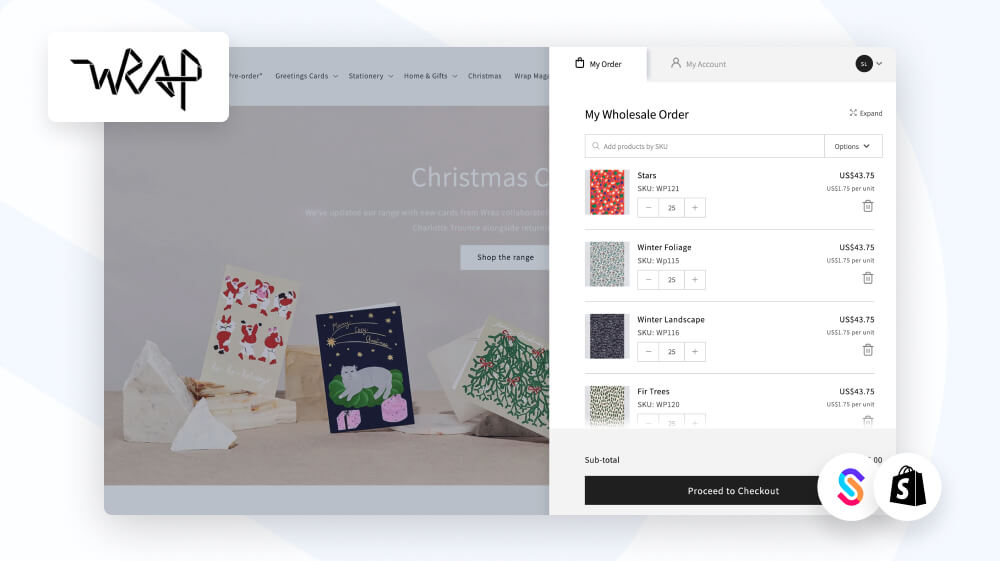 Wrap have successfully deployed a UK and US B2B store via SparkLayer and Shopify.
As with above, the solution is simple. When these orders arrive into Shopify, using the Shopify Markets feature, they can subsequently be updated to the corrected currency. In our guide here, we run through the full process of configuring this.
A separate standalone B2B Shopify store per currency
On the surface this may seem an impractical approach. If you have 8 currencies, it seems excessive to have 8 Shopify stores. Thankfully, there are ways to make managing this very easy, with many available tools that can cleverly sync and share content between Shopify stores. The net result is, although you may have multiple stores which only differ in the currency they show, you can centralise management to make it easy for your team.
DB have successfully deployed multiple international B2B stores via SparkLayer and Shopify.
In terms of configuration for a multi currency B2B store, the approach is perhaps the most simple. For each currency you offer, simply create a new Shopify store and configure the default currency in each. So if you offer USD. EUR and GBP, you would create 3 stores and each store set to that currency.
Round up
Whilst Shopify lends itself very well to multi currency DTC, as you can see above, applying this to a B2B operation does require some out of the box thinking. Shopify's limitation around multi currency draft orders would help unlock these necessary workarounds, and it's likely this will be available in the near future. Once it is, Shopify will offer a truly unrivaled way to enable multi currency for both DTC and B2B operations, all from within a single store!
Explore more
If you'd like to learn more about enabling multi currency via shopify and SparkLayer or discuss which approach may be right for you, please get in touch and we'll be happy to help.
Rhys possesses extensive experience in eCommerce and SaaS-based products, including leading fast and agile teams implementing high-level software architecture. He holds a BSc Hons in Computer Science from the University of West of England. Outside of work, Rhys enjoys outdoor activities such as climbing, urban exploration, hiking, and traveling, in addition to taking care of his feline companion at home!