A question we often get asked when merchants begin exploring how best to implement B2B on Shopify is this: should it be configured on an existing Shopify store or separated out onto a separate store. The answer, as you're about to find out, is 'it depends'!
One of the benefits of using SparkLayer on Shopify is being able to combine both a B2C (i.e. retail) with a B2B store within the same Shopify instance. You can see our B2B demo store which does exactly that. This means you can technically run both in parallel, making maintenance and management very straightforward and, in effect, you have one Shopify account to manage both your B2C and B2B operation.
In reality, things aren't quite as straightforward. Where it gets more complex is when you begin extending the features of Shopify, have more complicated B2B configurations such as wanting to hide or show products, or perhaps you have specific data requirements downstream (e.g. within your backend ERP system) that all make it difficult to manage under one centralised Shopify store.
Broadly speaking, there are 4 key factors that influence whether or not you should be separating out your B2B store on Shopify:
How you manage stock control
Whether or not you require multiple currencies
How you want to configure site access
How you manage payments and shipping
So let's dive right in!
1. Stock control
Let's imagine you have a single Shopify store but behind the scenes, you want your B2B customers to order from a separate stock pool to your B2C customers. Perhaps your B2B customers place extremely high volume orders and you don't want them to reserve all your stock, limiting B2C customers from placing orders.
If your B2B customers are required to order from a separate B2B stock pool independent from your main retail operation, the only way to achieve this is through a separate Shopify store. Why is this? The main limitation within Shopify is around how stock pools based on 'customer-types' work. In the context of B2B, this means it's not possible to vary what stock a customer sees on a product page based on them being a B2B customer. As a result, all the stock is routed from the same stock pool you've set up in Shopify which can pose issues such as B2B customers ordering your entire stock! So in this instance, if you need to separate your stock, you need an additional Shopify store.
That being said, there are workarounds to this such as setting up 'reserve stock levels' for B2C customers and this can be achieved via custom coding.
2. Currencies
Next up, currencies. Shopify supports multiple currencies natively meaning customers can checkout in whichever currencies you've set up. This is a powerful feature within Shopify and makes internalisation rapid to configure.

The limitation within SparkLayer is around how Shopify handles Draft orders, an integral feature to SparkLayer. Draft orders are essentially how SparkLayer creates B2B orders behind the scenes, and at the moment Draft orders can only be created in the 'baseline' currency your Shopify store is set up in. So if your baseline currency is GBP, your B2B customers can only place orders in GBP currency even if you have other currencies enabled. As a result, if you're looking to set up multiple currencies for your B2B customers, you'll need to create a separate Shopify store per currency.
You can see an example of this in action with our UK GBP Demo Store and our USD Demo Store
3. Site access
It's common to see B2B stores that are fully restricted until an approved customer signs in. Perhaps there are products or pages you want to keep hidden from the general public until you've moderated and approved customers that can access your store and begin placing orders.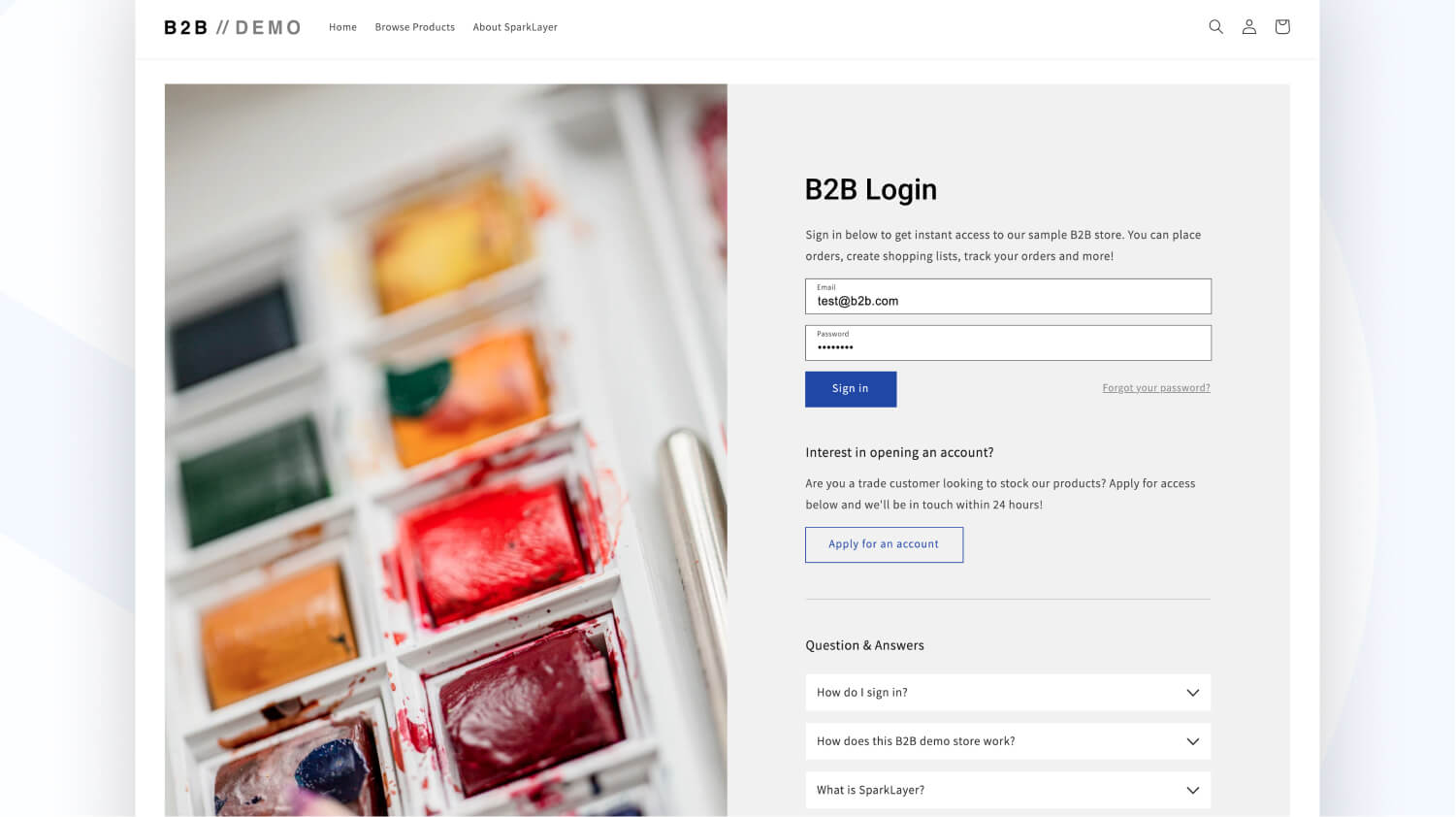 You can see an example of this in action in our B2B demo store here and we've even have a guide on how best to implement this. Another alternative we often see is B2B stores being available to the public, but pricing being hidden from view until an approved customer signs in.
Setting this up is relatively simple in Shopify and just requires adding special logic to the Shopify liquid theme code within your storefront but does mean you can't add the same code to your main Shopify (B2C) store. Effectively, your store requires two separate customer user-journeys and combining them under a single Shopify store just isn't possible.
4. Payment methods and shipping
Your B2B customers will typically require different payment methods to your B2C customers such as 'Payment on Invoice' or 'Payment on Account'. If you simply add these to your main Shopify store, all customers will be able to see these and potentially cause confusion. In our screenshot below, we've illustrated how this could look when in fact only one of the payment methods is relevant to the B2B customer.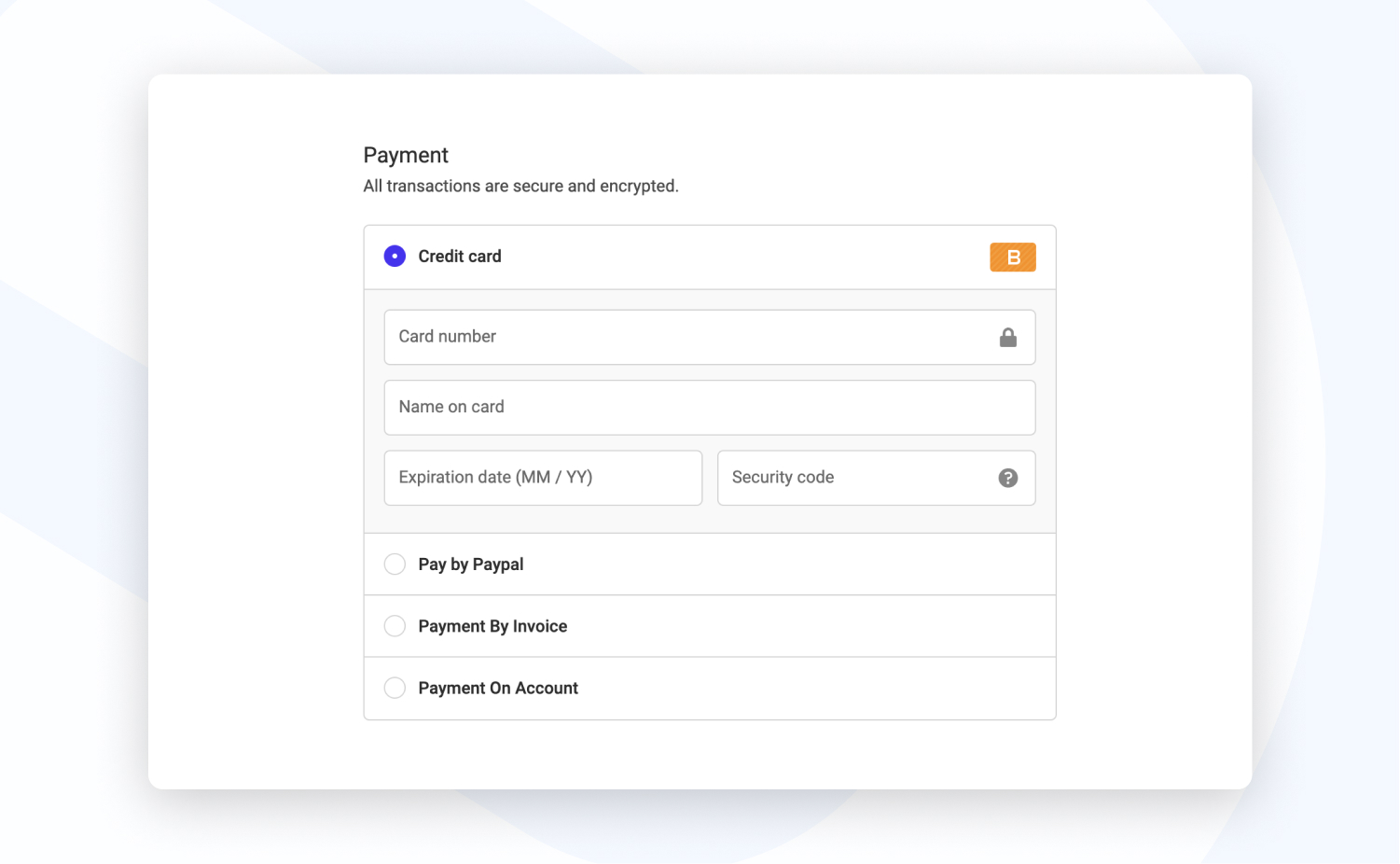 The same also applies to Shipping methods. If you set up B2B-specific shipping methods, these too will show for all customers.
The good thing is there is a way around this without having to create a separate store. If you're using the enterprise version of Shopify, Shopify Plus, it's possible to modify the checkout to implement special code to vary what shows and hides based on a customer type (see our guide here). If you're not using Shopify Plus and you require your B2B customers to make payments via the checkout, you would need to create a separate Shopify store to have full control over both payment and shipping methods.
Explore more
So there you have it: four key factors that influence whether or not you need to create a separate Shopify store for your B2B operation. If any of these apply to how you want to configure your B2B operation, you'll likely need to create an additional Shopify store. The good news is that even if you do need to create additional stores, Shopify has plenty of tools to make ongoing maintenance straightforward for your team.
We hope you found this guide helpful and please contact us if you'd like any advice.