You've set up your new B2B store. You've configured your B2B pricing rules. You've set up your B2B collection and product pages. You've even customised your store with exclusive B2B content and promotions. But how do you successfully get your existing and new customers to begin using your new B2B store? Whilst there's no quick answer to this question, there are some practical steps you can take to give your online B2B operation the best chance of taking off and helping automate and scale it in the process!
In this guide, we're going to run through some of the tactics you can use right away to start things off in your B2B growth journey.
1. Inviting customers via Shopify
Depending on the size of your B2B customer base, if you're only looking to begin with a limited number of customers, you may want to consider starting the onboarding process using built-in Shopify tools. Within Shopify, it's really simple to get started with the process typically working as follows.
First, create the customer record within Shopify, making sure to complete all fields such as contact details, saved addresses, and any special tags they may require to sign in.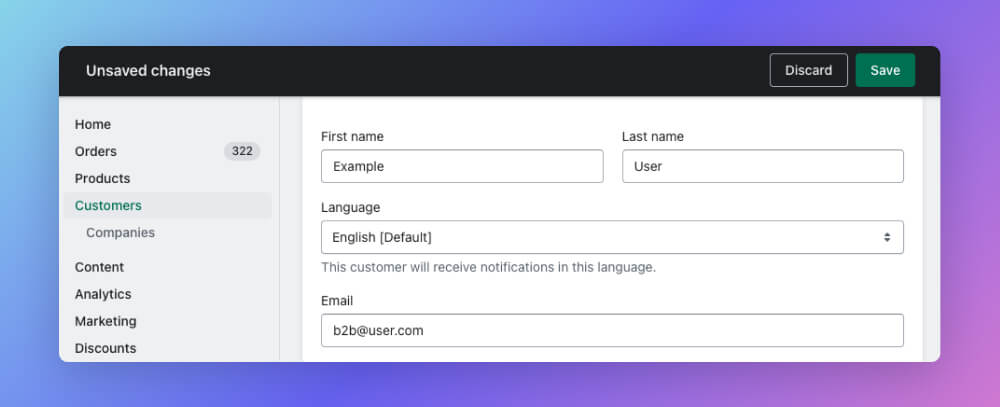 Once the customer record has been created, Shopify then allows you to invite a customer to your store, using their 'Send account invite' feature. When selected, this will email the customer a special 'activation email' and also gives you the option to send them a customised message.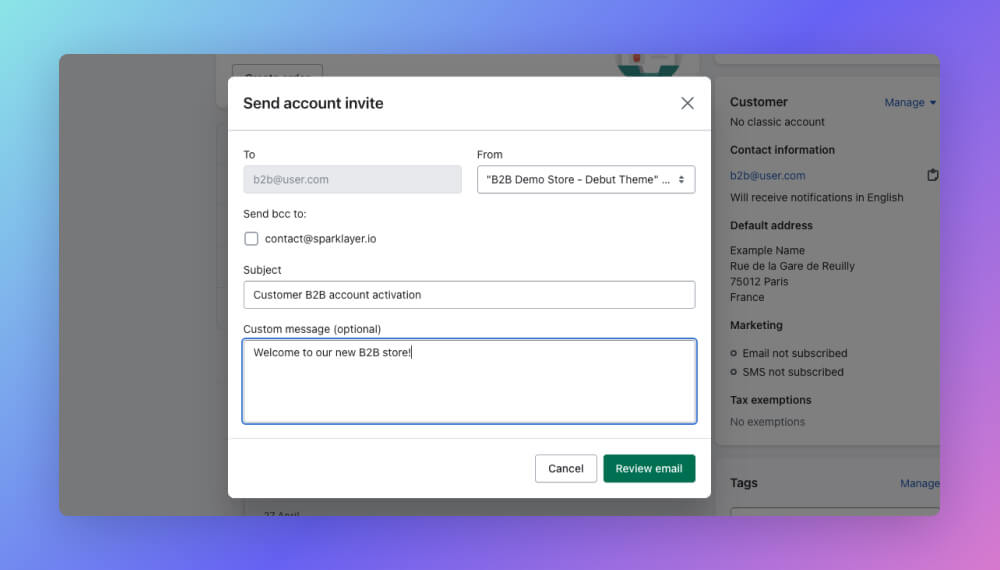 For the B2B customer, they have a really easy way to confirm their new account and gain access to your B2B store to begin placing orders. From an onboarding perspective, you can simply repeat this process for each customer you want to invite. It's also a great way to 'test the waters' with a limited number of customers before extending this to your wider customer base. Which leads us into inviting customers in bulk!
2. Inviting multiple customers in bulk
If you're migrating to Shopify from another ecommerce platform, chances are you already have an existing customer base that you're looking to enable on your new B2B store. When it comes to platform migration, one important area to consider is how these customers are 'activated' on your new store since it won't be possible to carry over their previous login passwords over to Shopify. If you're inviting or activating customers in bulk, the customer will follow the same steps outlined above - you just won't have to do this one customer at a time!
Although Shopify doesn't have a built-in way to do this via their admin area, there are some great third party applications that can facilitate this. One of the most popular is data import tool, Matrixify, that has simple ways to map customer data across systems and send out activation emails in bulk.
When you're happy to begin scaling your B2B store, this is a great method to reach your customers quickly and allow them to begin placing orders.
3. Using sales agents to introduce new customers
A key challenge of B2B eCommerce is finding ways to encourage B2B customers to use and engage with the new systems set up. Often there may be resistance to move from manual ways of working to a digital self-service experience that can be daunting for some customers, such as those used to phoning or emailing through orders or requests for information.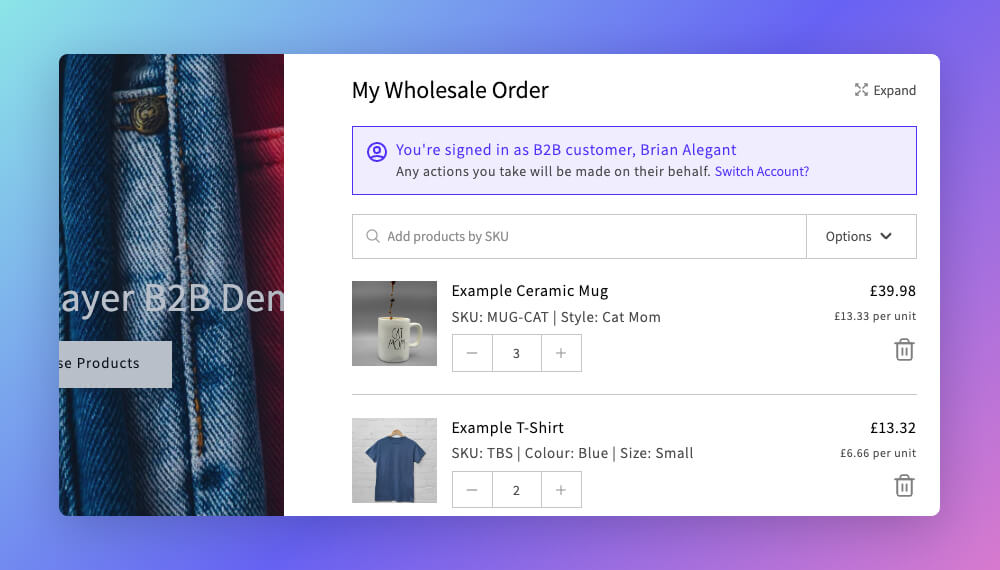 One great way to gradually introduce customers to your new online B2B experience is by using your sales team! Your sales team can softly introduce the notion of online B2B ordering and could even place orders on behalf of customers via a sales agent ordering tool, just to get them used to it. The big benefit here is the end customer will begin to see the benefits. Once an order is placed, the customer will receive email order notifications and, if they decide to then login themselves, they'll see their previous order history, address information, and easy ways to reorder.
4. Targeting campaigns to your customers
How you sell the benefits of your new B2B store is really up to you, but it's important to articulate this to your customers to pique their interest. You could mention the time savings they'll get, how they can order 24/7 not just in working hours, how they don't need to wait on the phone to place orders, the list goes on!
As with any sales strategy, you should give consideration to different types of marketing campaigns you could try; email newsletters, targeted ads, even having your team call up your B2B customers to walk them through it. Once you have initial traction, you'll begin to quickly see results!
Round up
At SparkLayer, we've helped guide many customers through one of the most challenging aspects of launching a B2B store. You can see some of our most recent success stories and how our customers have successfully navigated these challenges!
Our biggest observation is this: once your B2B customers begin to engage with your new B2B store, they won't want to go back to old ways of placing orders, e.g. via email or phone calls!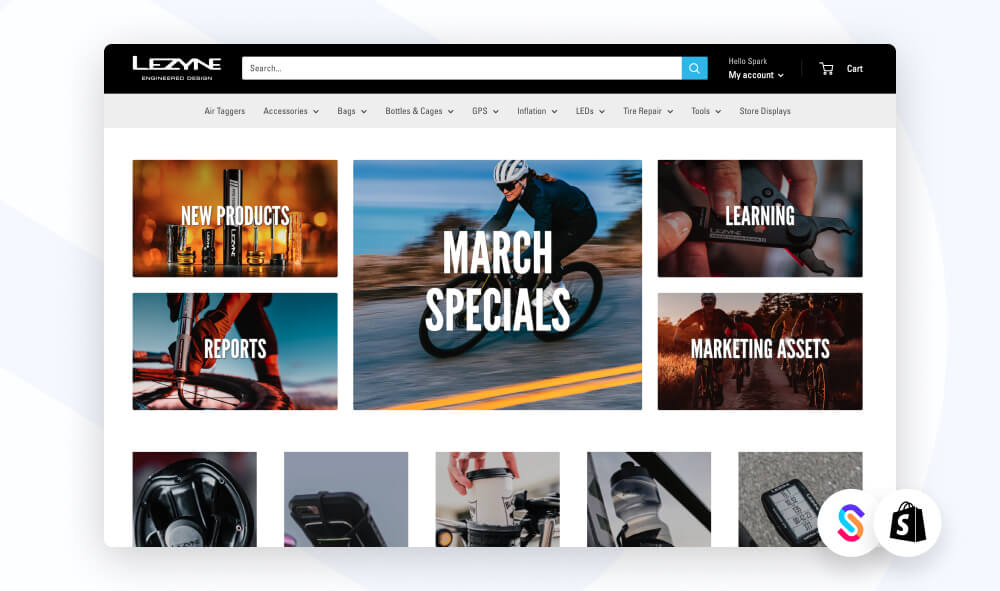 If you'd like to learn more about how we've helped customers such as Lezyne triple their online customers, please feel free to get in touch. We wish you all the best in growing your business!
Chris is an experience eCommerce specialist, co-founding UK eCommerce agency blubolt in 2006. For over a decade, Chris helped build and oversee their proprietary platform and worked with some of the UK's fastest growing retailers. At SparkLayer, Chris oversees the product strategy and - when he's not playing peekaboo with his daughter - enjoys staying active with golf, tennis, climbing, and hiking to name a few!